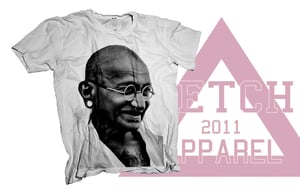 £

15.99
21st century Gandhi complete with piercings and tattoo's!
15.99 GBP
**FRESH ON SALE! WE DROPPED IT LIKE ITS HOT. CHILLIN KILLIN.**
Get your very own Mohandas Gandhi T-shirt while stocks last!
WEARING ADVICE: How to be FETCH 101:
Women
You can wear small tees and have a tight fit or you can go for the larger ones and go for the baggy look with rolled up sleeves.
Small Male
If your not keen to show off your guns of steel perhaps try going a size bigger to give yourself a baggy more relaxed look. OR even a size bigger to give yourself the "AINT NUTTIN BUT A G TING BABY" look!
Medium Male
Go small and show off your medium manliness or go a bigger and rock out with out your cock out for once! Roll your sleeves up be a playa. pull those hipsta women of yours
Large Male
Woah dude your a big guy show it off! if your a large is a bit baggy rock the tight look and dance your pecks a little!
WE SERIOUS BRO! STAY FETCH